Beauty Edit | Our Cruelty-Free Beauty Review for June 2018
I was sent a few different beauty products to test this past spring, from different companies. Please note, I did not pay for these products, they were sent for review, but all my opinions are honest and hold true to my core fundemental beliefs on sharing quality, cruelty-free, vegan products with ya'll.
My current beauty routine is fairly simple. For the most part, I have used the same products for almost 10 years now and have been satisfied. But as 30 approached, I thought it would be a great time to test some new products and see if my skin or hair could use something more or different.
Some of the products have made their way into a permanent place in my beauty bag, some were good but not keepers, and some were questionable. Read more below to get all the details.
mira nila STOCKHOLM
I have been using maria nila STOCKHOLM for almost 3 months now. I use it twice a week as directed.
I needed to work on repairing my hair after a year full of busy travel + sun and swim damage.
I saw immediate results. My hair was shinier, smoother, and I feel like it has been growing much faster. Now I don't attribute my hair growth rate to maria nila, that recognition is reserved for my new nutrition plan I have been on since the beginning of April (Medical Medium 28 Day Cleanse), but I do believe that because of the rapid hair growth rate, I am that much more protective of taking care of my hair. I have been working hard to eat right and stay on a great nutritional plan, and I want to apply that aspect to all areas of my life and body. Thus far, I have been extremely happy with my results from maria nila STOCKHOLM.

I love love love the smell. It has a beautiful scent that lasts throughout the day. This is definitely a product I feel comfortable recommending.
maria nila is vegan + cruelty-free certified!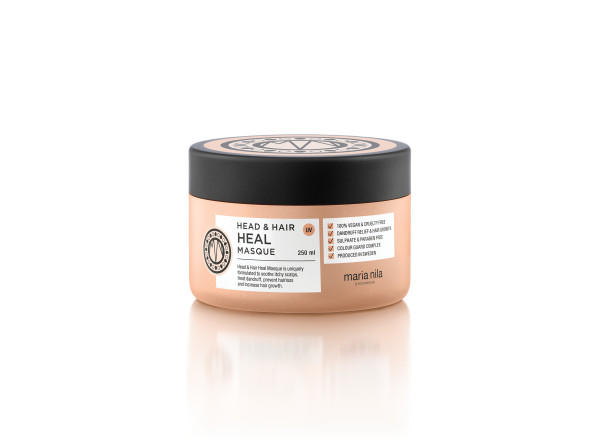 An anti–inflammatory and hair growth stimulating masque. Piroctone Olamine and natural Aloe Vera extract treat and prevent dandruff and scalp problems. Vitamin E, Apigenin and peptides stimulate hair follicles for increased hair growth. Oleanolic acid prevents hair loss. Apply to newly washed hair and leave in for 5–10 min. Rinse and follow with conditioner. Repeat treatment 1-2 times per week.
I received my first Vegan Cuts Beaty Box in May!
I love that it holds strong to its vegan + cruelty-free values and that no living creatures were harmed in the making of any of the products that they share.
I will be honest I have not used all of the products in the box yet, but the ones I have used, I use daily and plan on reordering from the brands themselves!
The Akar eye oil, Glamour Dolls Makeup eye liner, and Dirty Lamb coffee scrub are items that I have loved adding into my beauty routine at home.
The eye oil has dramatically repaired the skin around my eye area. I didn't realize how neglected that area of my face was. The eye liner goes on silky smooth and is easy to apply and the coffee scrub smells so delicious and exoliates beautifully!
I currently have a favorite toner and rose toner that I am still using and did not want to start a new product until I finished my previous items. I will update this post once I have tested the rest of the items from this box for a few weeks!
no-bunny was harmed in the making of this box... well except the bags under my eyes want your own? head to @vegancuts for 5 vegan beauty products delivered to you door every month!
DISCLAIMER: There is a lot of controversy surrounding Monat. One quick google search will tell you that, but I was sent product to test and this is my review. I feel like it is important to share the good, the bad and the real.
Monat is a multilevel, direct to consumer business, meaning you or I can become a partner aka direct to consumer sales rep (similar to Mary Kay or Avon, Senegence etc.) or a VIP and receive products at a discounted price.
I am cautious of this brand and the product solely on the fact that I had to e-mail to find out if they were cruelty-free + vegan, as they do not have this easily accessible anywhere on their site. If they do, I could not find it and I am usually pretty good at digging around to find answers. I got a response, but did not feel it was solid enough to put my seal of approval on it. They did say they were recently Leaping Bunny approved as of February 2018, but it took a follow up e-mail on my end to get a "yes we are vegan" answer. I am only cautious of this because I feel like a company would want to proudly display this as much as they can on the front page or footer section of their site, or at least in the product descriptions. You could be losing out on tons of clients by not sharing that info somewhere easily accessible, and so with that I am a bit cautious on their commitment to vegan + cruelty-free. Again, this is my opinion, I encourage you to be active consumers and do the research yourselves.
About the product:
I was sent three testers from a friend that contained about 2 washes worth of product (I have lots of hair, so it went fast). I am stating this because in order to fully test a product I believe it is important to give it at least 2-3 months of daily or weekly use (unless the product poses a threat within the first use, discontinue immediately) to give a well tested review.
Here is the deal. I really only got to use these products once. I shampooed, conditioned and oil treated. From my one wash experience, I can tell you this: my hair did feel great, I some how actually got a whole week without washing it, which is crazy because I usually have to wash every day or every other day. It was shiny and smooth but not oily or greasy. This amazed me! I have never experienced this before. I won't pay for blowouts because for me, it is a waste of money that gets washed down the literal drain the next day. I also loved the smell. I enjoyed it lasting throughout the day with me.
Because this was really just a one week trial this is about as far as I can go with the review. My first week was great, but I can't give any more insight than that. I have read reports that after the continued use, people have experienced hair loss, damage, and color fading. I can not comment to any of that on my end, as I did not experience that in the short, one time use that I had the product. I would however, advise you to talk to folks on both ends of the spectrum. Gather the information and make your own conclusion on whether or not this is something that you feel could be right for you.
I am giving this a "use at your own risk". I personally will not continue to use the products. I am not saying they aren't a trustworthy company, but as with any company, I always highly recommend doing your own research about the mission and ethics behind a company and quality of ingredients.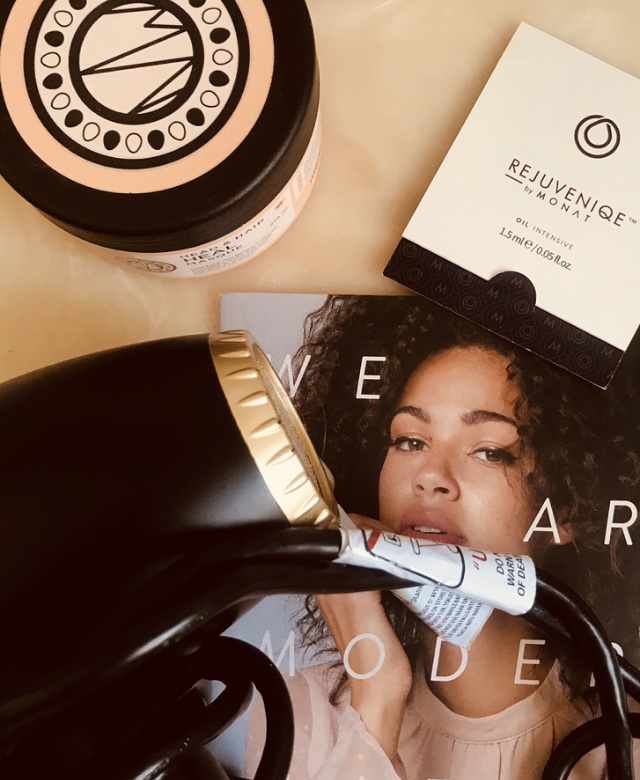 Nourish and energize your scalp with an invigorating blend of 13+ Natural Plant and Essential Oils rich in omega fatty acids, antioxidants and nutrients highly compatible with the skin and hair. This unique, proprietary formula helps repair and protect against oxidative stress and adding body. As a result, the hair looks instantly healthier with long-lasting shine.
If you have products you would like me to review, let me know in the comments or feel free to e-mail! If you have used any of these products let us know your thoughts in the comments below. We would love to get your feedback.
xo,
Sararose