An Exclusive Look Into Disney's Broadway Aladdin | A Disney Style Event
Shining, shimmering and splendid are the best words to describe last night's Disney Style blogger event. We joined Disney Style at the Amsterdam Theatre in New York City for a special viewing of the Tony winning Broadway show, Aladdin the Musical.  
From the very opening scene, the Broadway rendition of our beloved childhood classic Aladdin was 'one jump ahead ' in all areas. From the breathtaking, glimmering costumes to the tightly in-sync choreography to the spectacular singing and live orchestra, Aladdin captivates your attention and transforms you right into all the action. 
Aladdin the Musical is broken into two acts and runs 2 hours and 45 minutes with a 15 minute intermission. During the intermission Disney Style invited all the bloggers down to the 'Agrabar' for some drinks, socializing and photo opportunities with the actual lamp used in the show. 
So how does the Broadway show compare to our beloved classic Disney movie? Very close! Our favorite songs, Arabian Nights, One Jump Ahead, Friend Like Me, Prince Ali and A Whole New World were all included in the Broadway rendition. There were some new songs added to the set list but they fit in very well with the story line. Some difference between the Broadway show and the film were:
 Abu the monkey and Rajah the tiger are excluded from the show.

Iago is not a parrot, but is played by a real man as seen on stage. 

Aladdin is given three chivalrous partners named Babkak, Omar, and Kassim. 
We welcomed and enjoyed these additions to the Broadway rendition of Aladdin. 
One of our favorite characters in the show was definitely the witty and loving Genie. He was so hilarious and kept the audience laughing at his jokes in between the dialogue and singing; and yes, everyone's favorite magic carpet also makes a cameo. 
The Disney Style blogger night also included a meet-and-greet and Q&A with the Aladdin cast members after the show. As they changed out of their costumes, several cast members made their way over to the blogger area. 
Two of the cast stylists, LJ Wright ( https://www.instagram.com/ljwright590/ ) and Teale Dvornik ( https://www.instagram.com/tealejane/ ) answered questions about their backstage workload. They mentioned they begin to prep show ensembles one hour before curtain. The men steal the show with the number of outfit changes reaching approximately 15 full changes including their hats. The male cast members have to arrive at the theatre 45 minutes to curtain to get dressed. 
Major Attaway, Genie understudy, performed as Genie for our show last night. He has to arrive 55 minutes to curtain as Genie's makeup and dress process takes the longest of any character in the show. 
Cast member Angelo Soriano ( https://www.instagram.com/gelosaurus/  ) is an Aladdin swing actor. He explained as a swing actor he is responsible to cover all 12 male roles and has to be able to substitute for any male character at any time. 
Amber Owens, ( https://www.instagram.com/ambiowens/ ) an ensemble dancer whose stage alias is 'Dahlia', spoke about her day to day life outside the show. Her daily routine includes dance class, gym workouts, individual rehearsal as well as a 'put in' rehearsal for any new cast members added into the show.
Courtney Reed, ( https://www.instagram.com/rhodesreed/?hl=en ) who plays Princess Jasmine, revealed her feelings on playing the first ethnic Disney princess. She was honored to get the part, as Jasmine was a role model for herself growing up. Her costumes are very intricate and are all either delicately hand beaded or hand painted. Her favorite costume is the wedding dress she wears in the finale. When Courtney is not rehearsing or performing she is busy with her growing jewelry business, GaggingChokers. 
Other members of the cast who came out for the meet-and-greet included:
Kathryn Allison, attendant, fortune teller, ensemble 
Alfie Parker, ensemble 
Brian Gonzalez, Babkak
Rodney Ingram, ensemble, Aladdin understudy 
Nathan Lucrezio, shop owner, ensemble
The Disney Style blogger night at Aladdin the Musical was definitely a special evening to be remembered and exceeded all our expectations. So, the next time you're in NYC, 'hop a carpet and fly' over to the Amsterdam Theatre to see Aladdin the Musical. It will surely be exactly what you wished for!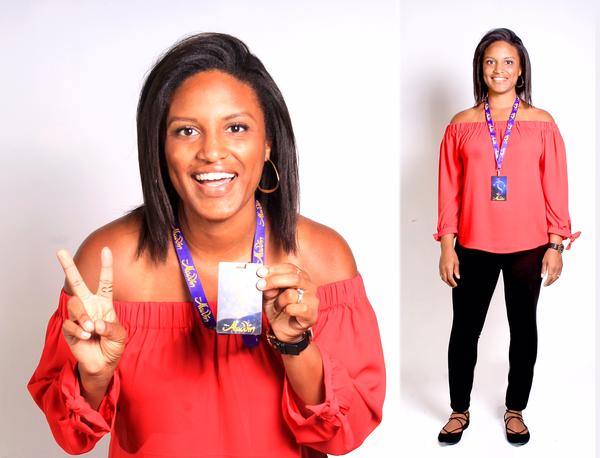 Top: Express | Pants: Rachel Roy Denim | Shoes: Steve Madden | Watch: Marc Jacobs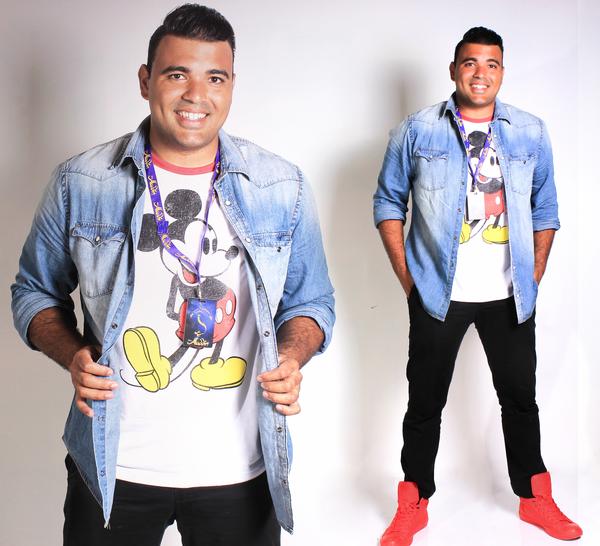 Shirts: Target | Pants: Ralph Lauren | Shoes: Converse