Indigo Swim Takes Sustainable Swimwear To The Next Level By Turning Ocean Trash Into Treasure
Indigo Swimwear designer and owner, Philippa, is a California native who grew up in Europe, and always knew she wanted to find her way back to the ocean someday.
Having grown up in a large family with a retail background, one could say that retail was always in her blood. However, she never quite knew what she wanted to do, but she did know that she wanted to be independent and run her own company.
After traveling the world in a journey of self exploration, her travels took her to Australia where she discovered where she wanted to be, and what she wanted to do. Philippa traveled around Australia, New Zealand, and Fiji for a few months before deciding to settle down in Byron Bay, Australia, where she lived for seven months.
Having made it back to the ocean, "the place that calms my mind and makes me feel at home", says Philippa, it was there in Byron Bay, the little eco-hippie surf town that the designer discovered her passion and purpose.
She asked herself," "what do I want to do? Why do I want to do it? And how was I going to achieve it?".
To answer the first question, Philippa took a peek in her cupboard and realized she literally had more swimwear than anything else and on top of that, she was always out buying new swimwear. It was then she decided to delve into the world of working in the swimwear industry and creating her own bikinis. That wasn't enough for Philippa though, there was more that needed to be done than just create beautiful swim pieces. She had always been interested in charity work and doing good/giving back, especially when it comes to animals!
I love animals! So I thought about the swimwear and the ocean and all the issues with global warming and how our trash is ending up in our oceans and creating HUGE patches of waste, killing animals. I read that in 2020 there would be more plastic in the ocean than fish and it was then that I knew, INDIGO SWIMWEAR is going to be a brand that does some good in this world and gives back instead of creating more fashion waste. Lastly, how was I going to do that? Research, research, research.

-Philippa Brenninkmeyer
Philippa spent months researching textiles. How they were eco-friendly and sustainable, what they were made of, where manufacturing would take place, how pieces would be manufactured, etc.
Touch, fit, aesthetic, social and environmental impact, were all extremely important decisions in the process of creating the perfect collection. Giving back to the environment and cleaning our oceans, while at the same time still being affordable, were huge factors that Philippa wanted to incorporate.
Philippa made the move back to California and launched INDIGO SWIMWEAR in September 2018.
If you put your mind to it, you can definitely achieve it, and don't you dare let that little voice that says it's too hard, too much, doesn't make sense or any of that get in your way.

-Philippa Brenninkmeyer
We asked Philippa What advice she would give a creative spirit looking to start their journey as a designer or business owner:
Some days are harder than others, but if you push through the tough ones, then you come out stronger and smarter the next day. That is the story of how I started a 100% sustainable swimwear company that contributes to ocean and sea life conservation by using 100% regenerated nylon (nylon made from old fishing nets and other ocean waste). I also make sure that each month a percent of our manufacturing costs go back to beach cleanups in Indonesia and educating the youth about living a more sustainable lifestyle and how regeneration works, through the ROLE Foundation.

I also give back a percent of sales each month to local beach cleanups in California through the Surfrider Foundation. At INDIGO we believe in supporting the oceans in which your swimwear is made to swim!

All in all it definitely has not been a smooth road! The main struggles I had to deal with were 1) figuring out my manufacturing and realizing that island time was really a thing. 2) learning through doing… I did A LOT of things that I really could have spared myself mentally as well as financially … but hey, I definitely learned a tone and know better now. 3) starting a business on your own that is online based is no joke!

It's definitely a tough industry, so patience is key, but at the end of the day I believe it all pays off!

- Philippa Brenninkmeyer
A short bio on the company itself:
INDIGO SWIMWEAR is a 100% sustainable women's swimwear company that supports ocean and sea life conservation through donating a percent of sales and manufacturing costs to beach cleanups. What sets us apart is that we use only the best-regenerated nylon fabric made from ECONYL fibers. This literally means that we are taking the trash out of the oceans and creating something brand new with it.
We also only use eco-friendly packaging from drawstring bags to boxes, hangtags, thank you cards, business cards, etc. On top of that, we give back to beach cleanups in Indonesia as well as in California. We also work with the ROLE Foundation in Bali to educate the youth in Indonesia on what it means to live sustainably and how they can make their own regenerated goods out of old waste.
The other factor that sets us apart is that we put a huge emphasis on the feel of the fabric, the fit, and the style. Just because the product is eco-friendly and sustainable does not mean that it can't be sexy and feminine.
The newest collection 'The Minimal Range', launches this week, February 23rd 2019.
Shop Our Current Favorites: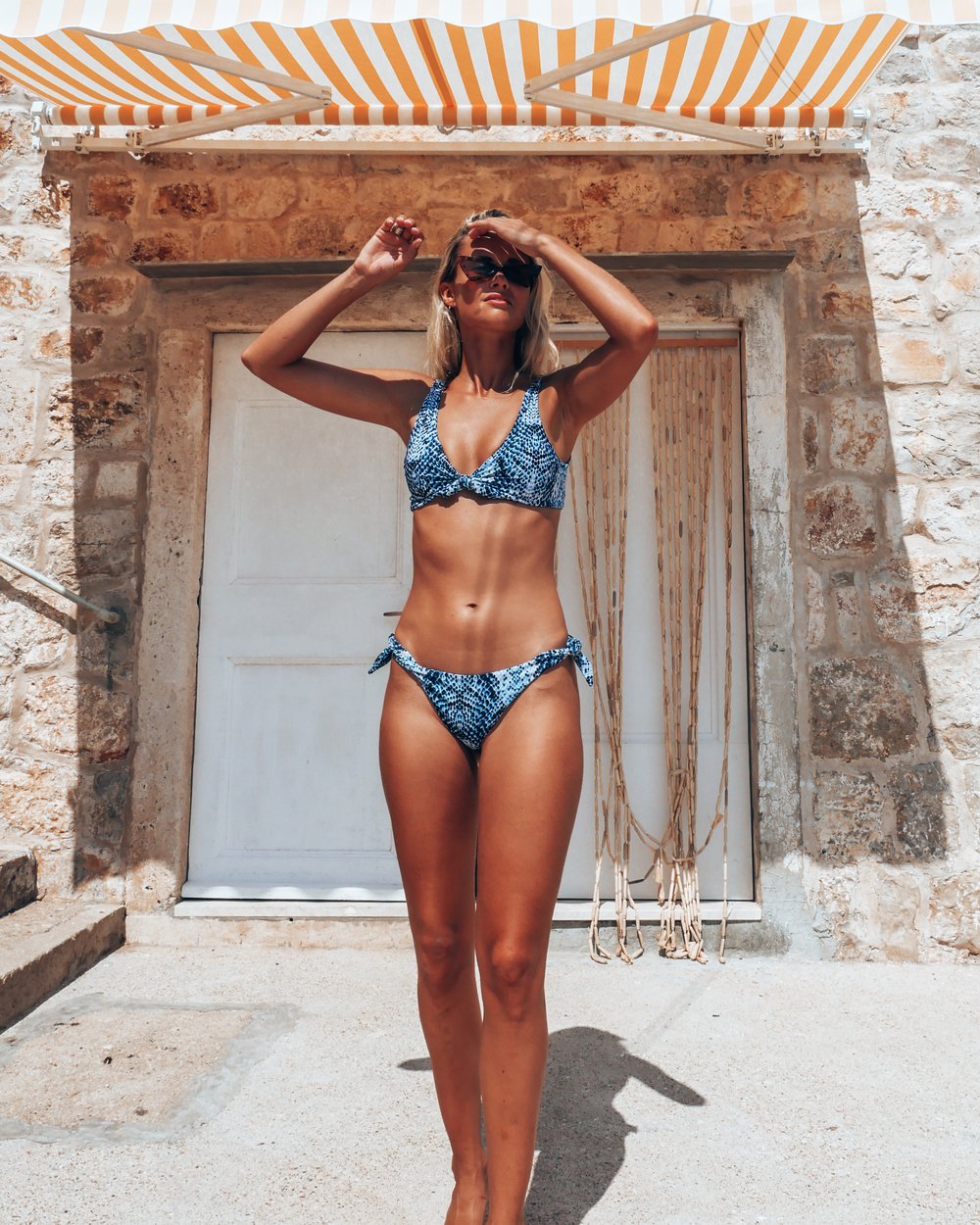 The Byron Botton In Wild Indigo